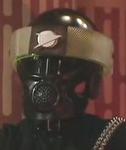 Greetings to all current and soon to be Federation citizens. Trooper Pouthmiece here again with the latest Federation news.
Breaking News; Search ships sifted through the wreckage of the Liberator and managed to find the bodies of Servalan's crew but found no trace of the President.
File:
Rescue
Teams searching the planet Terminal discovered the remains of the alien criminal Cally "Coldheart" killed in what appeared to be an explosion most likely set by one of her companions (no honor among thieves).
Long range scanners identified a freight ship Scorpio registered to an individual named Dorian leaving the planet. Federation files on Dorian go back over two hundred years (that can't be possible. Have to tell tech guys to check that) He's wanted for questioning in the disappearance of several people including his partner. Recently he's been known to keep company with a female gun for hire named Soolin (not sure if that's her first or last name).Reports say he worked with Professor Ensor over forty years ago (again, have to check that) and picked up several times intoxicated ranting about horrors and monsters living in caves.
Ask Trooper Pouthmiece:
This week's question is from the planet Tarsius. Sel wants to know, "what is the strongest metal?" Herculanium. Strongest known metal in the universe.
This has been trooper Pouthmiece.
From strength to unity.