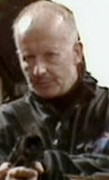 File:
Star One
Status; Open
Your attention. Red One mobilization is still in effect. All Federation citizens between the ages of sixteen and forty five are to report to the nearest Federation recruitment center Immediately. I've been informed that a few of personnel reading this thread have still not complied with the latest Federation regulations. Make no mistake, that will be going into my report. On the war front, the battle continues to go well. Federation forces have launched a counter attack and are driving the enemy fleet back. Recent reports indicated that the Liberator was engaging the enemy fleet. Intercepted radio transmissions give rise to speculation that Avon and some of the crew led a mutiny against Blake and are now fighting against the aliens. More reports to follow.
For the record, and with me everything is on the record, I dislike dealing with you civilians. I've followed my orders, completed my assignment, now I'm taking the next transport to reunite with my squad and hopefully I'll be able to get in on the action.
Section Leader Klegg, out.
By Servalan's command